We have over 2,400 buses on the streets of London.
History
London Central and London General bus companies were formed in 1989 in preparation for the privatisation of London Buses Limited.
Interestingly, both companies' origins can be traced back to one of the original pioneers of bus operations in the capital, the London General Omnibus Company Limited (LGOC).
LGOC, or "General" as it was known, operated services throughout the capital and was absorbed into the new London Transport Executive in 1933. London Transport, famous for the red London bus, was segregated in 1985, becoming London Buses Ltd and London Underground Ltd.
Upon privatisation in autumn 1994, London Central was purchased by the Go‑Ahead Group, based in Newcastle, which itself was formed on the privatisation of Northern General Transport Ltd, previously part of the National Bus Company.
London General was initially purchased by an employee/management team, being subsequently acquired by the Go‑Ahead Group in the summer of 1996. These purchases were part of a policy of expansion by the Go‑Ahead Group which continues today.
Our services
Go‑Ahead London companies now operate over 2,400 buses and employ over 8,000 staff operating from various sites in the capital. The companies operate in a regulated environment under contract to Transport for London (TfL), with contracts being awarded for five or seven years via a rolling tendering programme. We also operate a small number of routes for Surrey and Essex county councils and have a small garage in Luton which operates the dedicated Luton Airport Parkway shuttle service.
We are the largest London bus operator, providing nearly a quarter of London's buses, with our vehicles travelling 82 million miles annually on over 197 day, night and school routes.
Our visions and values
We currently have 17 operating sites across London:
A

Sutton

DS

Henley Road

NX

New Cross

RA

Waterloo

AF

Putney

RR

River Road

AL

Merton

MB

Orpington

PM

Peckham

SI

Silvertown

BX

Bexleyheath

MG

Morden Wharf

Q

Camberwell

SW

Stockwell

C

Croydon

NP

Northumberland Park

NP

Goat Road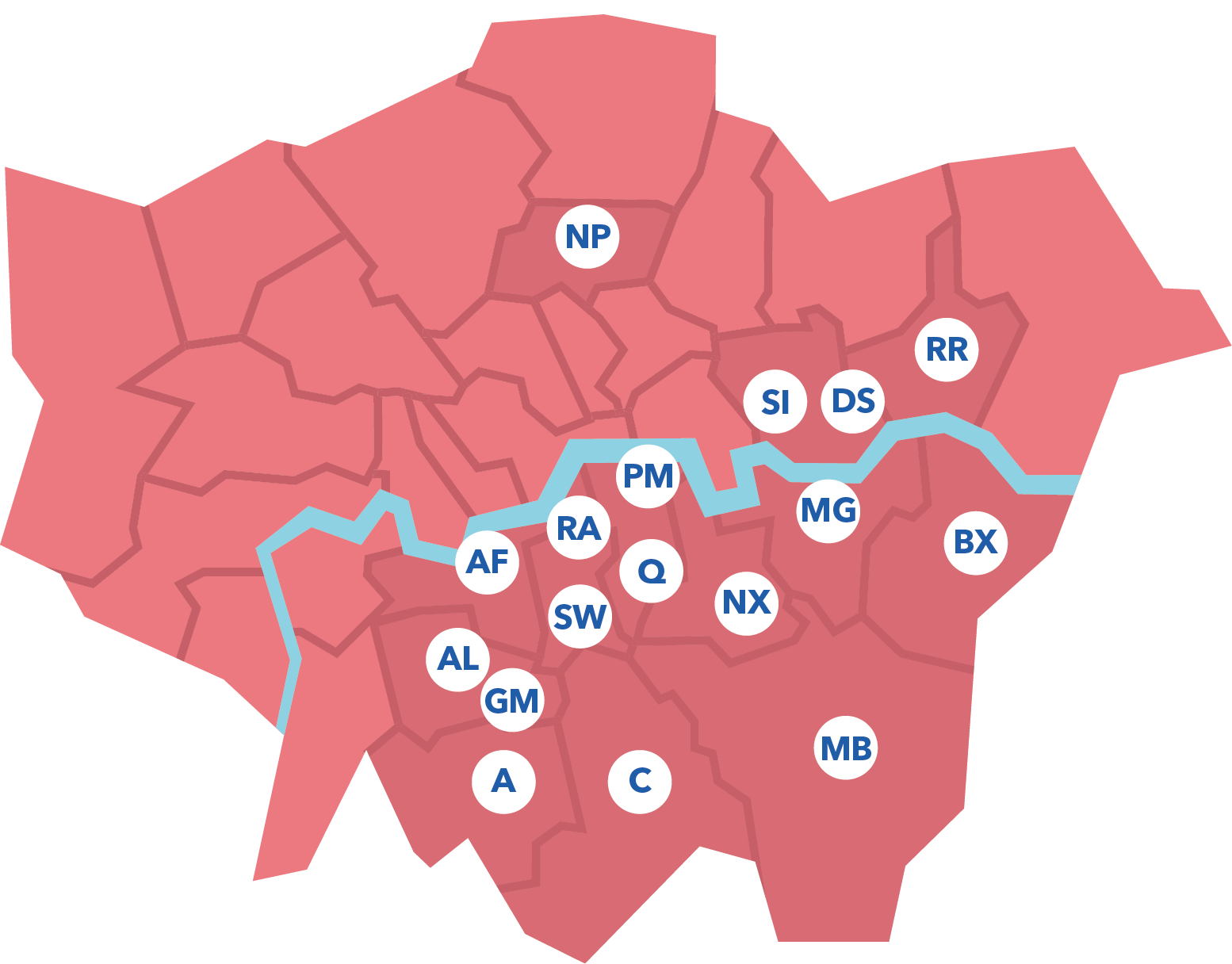 London boroughs that we operate from:
1. Barking & Dagenham
2. Bexley
3. Bromley
4. Camden
5. Croydon
6. Greenwich
7. Haringey
8. Lambeth
9. Lewisham
10. Merton
11. Newham
12. Southwark
11. Sutton
12. Wandsworth
Replacement bus services
The company is also a specialist in the provision of rail replacement bus services, not only on behalf of Southeastern and Govia Thameslink Railway (members of the Go‑Ahead Group) but also for London Underground and London Overground Rail (LOROL).