Go‑Ahead London's switch to electric has saved 700 tonnes of CO2 to date.
As a result of pioneering work between Go‑Ahead London, the capital's biggest bus company, and Build Your Dreams (BYD) of Shenzhen, China, Europe's first all-electric bus garage now allows Londoners to travel on clean, silent and reliable electric buses. Go‑Ahead London and BYD have been working in partnership since 2013 and have saved 700 tonnes of CO2 emissions in the process.
"These new fully electric bus routes will make a real difference cleaning up the air in busy parts of Central London and are another step along the way to making all London's buses zero emission by 2037."

Sadiq Khan, Mayor of London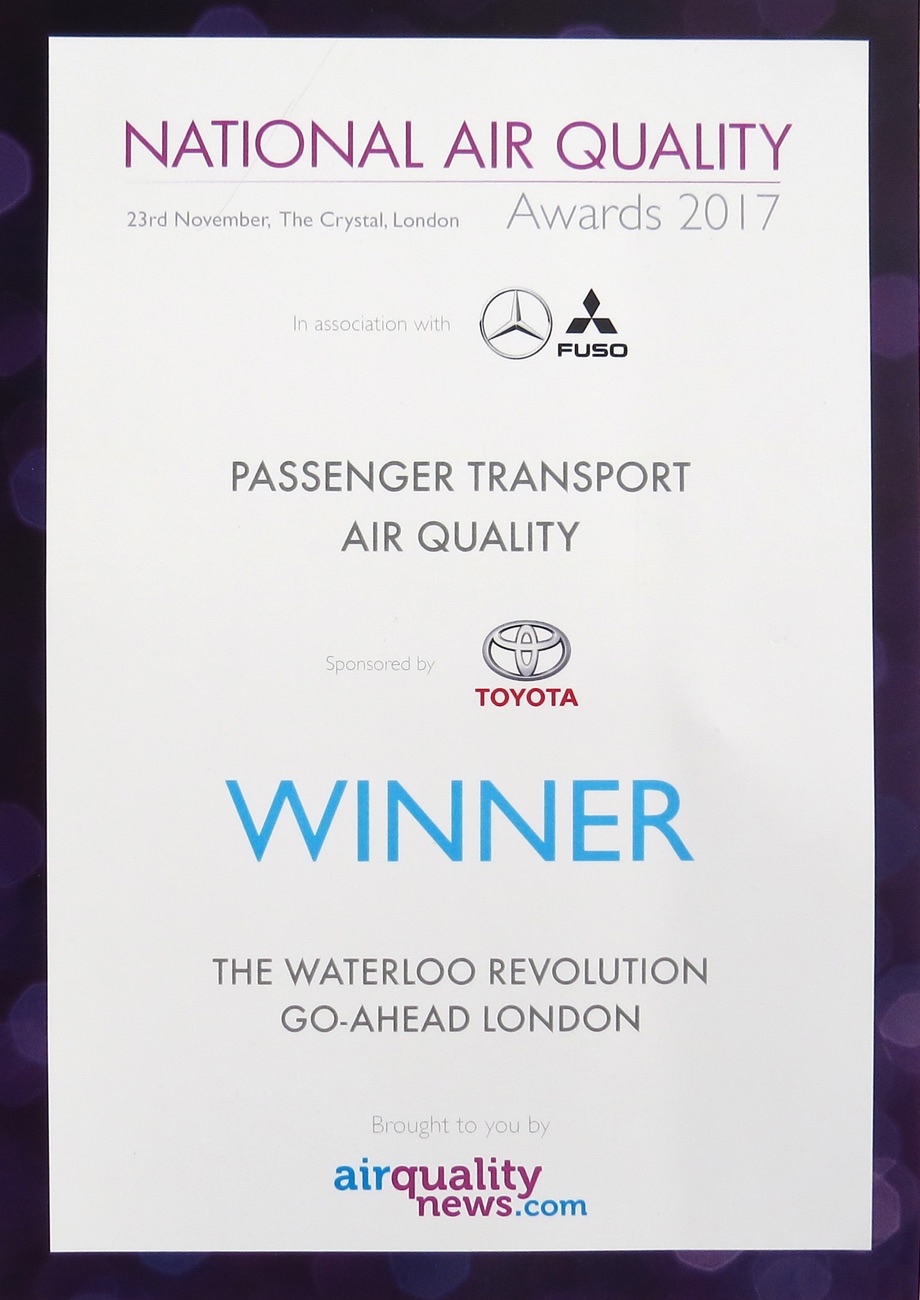 Waterloo goes electric
In 2016, Waterloo converted from diesel to fully electric EnviroEvs. In comparison to the diesel buses they replaced, these high capacity single decker vehicles are more efficient by 700 tonnes of CO2 per year and have improved London's air quality since their introduction. They can achieve a 16-hour service cycle without recharge, which is a first for any London bus operator. Popular with passengers, they also boast seat-back USB charging points and audio-visual digital screens that display maps and announce stops.
Routes 507 (Waterloo to Victoria) and 521 (Waterloo to London Bridge) predominantly serve commuters travelling to and from National Rail stations in the heart of the city.

The electric journey continues. Since their introduction at Waterloo in late 2016, a further two Go‑Ahead London services have been converted to electric bus operation. The first was route 360 (Elephant and Castle to Royal Albert Hall) in November 2017, followed by route 153 (Finsbury Park to Moorgate) in February 2018. As a result, the company has, to date, safely operated over 3.5 million emission-free electric bus miles. Routes 100 and 214 are also scheduled to start using electric buses during 2019.
Sustainable Transport Award
Waterloo electric bus conversion won the Sustainable Transport category at 2017's National Corporate Sustainability and Responsibility Awards, where we beat competition from Manchester Airport and United Parcel Service (UPS).
The awards recognise organisations that have demonstrated a commitment to change and the judges described the Waterloo project as having "delivered real health benefits for all and set the benchmark for future schemes".
This accolade comes a couple of months after our success at the London Transport Awards, where Waterloo collected the Contribution to Sustainable Transport prize.
Both of these achievements reflect the hard work put in by a number of colleagues and we congratulate all concerned.